March 7th, 2011, 12:01 am
Avenue B HD
When the new Greenpois0n jailbreak came out a while ago, I immediately tried out the old version of Avenue B,
viewtopic.php?id=16796917
, which has been my favorite theme for almost 2 years. I was disappointed that it didn't work anymore, so I decided to make the HD version up from scratch with the old Avenue B as an example.
I have Crypt's permission to create and publish this HD version, so all credits for the Avenue B idea are for him. Further do I want to thank Erik Leutscher for helping me with some icons and the download site.
What's in the package?
- .theme file
- instructions for creating icons
- appstore icons.psd & basic.psd
Update v1.1
- 12 new icons, including Video, Facetime, Installous, iFile, Shazam and a few more!
- Included 2 template psd's, 1 for appstore apps and 1 for standard/cydia apps
- Please read the readme file before creating icons
Update v1.2
- 60 new icons! Thanks to --anx--, HeXetic, Leutscher, innermoi and falcon212
- Updated AppIconOverlay for website shortcuticons and other non-prerendered icons
Update 2012
Wow, I've haven't been around here for a while and I'm pretty amazed by how this theme is still living! Massive props to everyone who contributed to this theme and who kept it alive! The theme is downloaded just over
10.000 times
from the official website, but it's so widespread across the internet so real download stats are unknown.
Update -

9 february 2013
So the good news is that Macthemes is back online again and that a new jailbreak is available! The bad news is that I forgot all the tricks in making themes. And since Apple changes everything for every iOS and every device, it kinda hard to sort things out.. But I got Avenue B running again on the iPhone 5! Unfortunately, I can't get rid of the icon labels on the iPhone 5. I'm trying hard to fix this and when that is fixed, I will put the updated Avenue B online!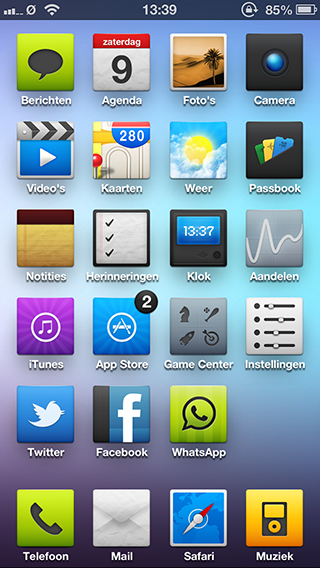 Hope you all like it! Click on the download button below and you will be redirected to the Avenue B HD theme site!
THIS DOWNLOAD IS NOT WORKING 100% WITH iOS6 AT THIS MOMENT, updated version will be put online soon!
Last edited by
LG
on February 9th, 2013, 3:38 pm, edited 5 times in total.